Pastor Raja's Story
At the age of 16 I accepted Jesus Christ as my personal Saviour and committed to study in the Bethel faith Sparkling Bible College, which is in Coimbatore South India and by the grace of our Lord in 1983 I graduated with BTh (Bachelor of Theology) and started to work for the Lord.
After my graduation God gave me an opportunity to work with orphan children as a warden for 3-4 years. While working with the orphans the Lord gave me a vision of my future ministry that I would start an orphanage for the poor, parentless children, and this would be for God's glory. With this great zeal and vision I stepped out and started a church ministry in Bangalore.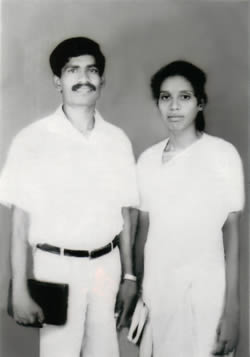 In 1989 I married Jebasheela who was born and brought up in a Hindu family, but came to know Christ. She was 17 years old when I married her and we both came to Bangalore with empty hands to do God's ministry. In our newly married life we had no room to stay, no food, no change of clothes- nothing! It was a very difficult time, yet we believed the Lord had led us to do this ministry. We only had the word of God and his vision to guide us and encourage us in this wilderness situation.
Everyday we used to visit people on the streets or house to house and tell them the Good News of our Lord Jesus. Sometimes we went without breakfast, lunch or dinner and at night there was no place to sleep. I and my wife used to sleep on the platform of a railway station and sometimes we requested the station master to give us a place in the waiting rooms. Even though it was so difficult and at times painful we continued to preach the message of love and compassion of our Lord Jesus Christ to the people. For 3 years we suffered like this and then after 3 years the living God miraculously provided us a place to live and start a church.
At first not many people came. In the first worship service only two young people turned up but we believe God had sent them and so started anyway. Gradually more people came and many were saved through coming to know the Lord Jesus Christ. In our ministry many people were delivered from witchcraft, pain disease and from sin. Through these miracles many families accepted Jesus as their Saviour and started coming to church.
One of the most difficult experiences in our life at this time was the loss of our first child. There were many needs that we had, but there was no one we could really share them with. My wife Jebasheela became pregnant and she was not getting enough regular nutritional food. She gave birth to a baby girl, but she became sick. We did not have enough money to buy her medicine and so after 5 days our baby girl died. It was so hard to bury our little daughter, but God gave us comfort and strength and somehow we were able to continue the ministry.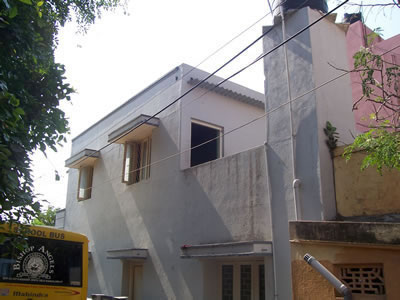 In 1997 some missionaries from South Korea helped us build a church and a house, which is where we are today. In the church there are now more than 250 members who have received Jesus Christ into their lives.
In 1998 a lady brought two children she found on the road side. She asked us to keep them in our house and after 3 months still nobody had come in search of those children. Then God reminded me about his vision which he gave me when I was starting my ministry. He also gave me a word from the Bible in Isaiah 49:8-10, and according to those verses God delivered the people and brought to me orphans to care for and provide for their needs. The Lord also blessed us with our own children, so we found ourselves caring for them and 25 orphan children who were also staying with us in our house.
We were also involved in other ministries About 20 kilometres from our church we started another church in the village of Whitefield. Here God healed many of TB and other diseases and many found faith in Christ. This was not an easy area to minister for there was great opposition to the gospel. There are more than 45 villages in Karnataka where people do not know the name of Jesus Christ and we felt called to share the gospel here as well. We were also trying to care for lepers and widows who came to us for help.
The burden of all this work was becoming too much for us and we simply didn't have the resources to meet all of the needs. We cried out to God for help wondering how we could continue. We felt we were sinking under the pressure and did not have enough resources to care for the orphans anymore. But God stretched out his mighty hand and in his mercy sent someone to help us, by introducing us to Pastor Mike Ewan from Ireland. From that day he and others in Ireland have been helping us in this ministry and have helped us to care for the orphan children.
Thank you for your support. We humbly request that you pray for our ministry and continue to help this work in India so that we might reach the orphan children with the gospel and bring them up with love and kindness in a healthy way. Pray also that we might be able to plant many new churches in villages where the people do not yet know about Jesus Christ.
(Pastor M.S.T. Raja)
Return to Our Story