Website under re-construction
Welcome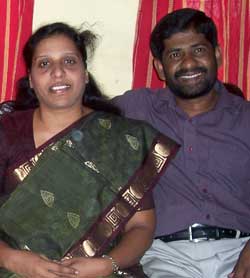 Rabboni Mercy Trust works in partnership with an Indian Pastor and his wife in Bangalore who care for 30 orphan children.
Pastor Raja and Jebasheela have been caring for children since 1998 alongside their church ministry. They started the Rabboni Mercy Orphanage with no visible means of support, when 2 children in a desperate state were brought to them. Today they are caring for 30 orphan children in addition to five of their own. They provide food, clothes, education, medical care, emotional and spiritual help.
Rabboni Mercy Trust is not an orphanage as we would understand it, for Pastor Raja and Jebasheela have taken these children into their own home to love and support them. The family and the children live together in a household of 35 children!
Rabboni Mercy Trust is a Christian organisation. As followers of Jesus Christ, we seek to share his love through words and actions. The aim of the orphanage is not only to care for the physical and material needs of the children, but also to tell them of the love of God in Christ Jesus. Find out more
Did you know?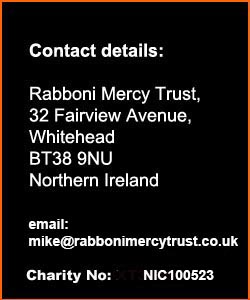 almost four hundred million children live in India
thirteen million children are homeless
two million orphans live on the streets.*
many live below the poverty line and are malnourished
many others do not have access to basic education.
*Quoted by Operation World
| | |
| --- | --- |
| | Would you consider sponsoring me and my friends? Thank you. |
| | To find out more information see our news page |